Since 1841, when our family arrived with the first British settlers to Nelson, we've learned a lot about sustainability and what this really means to our environment, community, and cultural values.
We've been part of the cultural shift from the settlers' goal to 'break in' the land for pasture to the need to preserve our favourite part of the world by establishing the national park. Along the way, environmental responsibility has come to mean much more than planting trees and recycling.
In line with the Nelson-Tasman region's strategy to be carbon zero by the year 2050, we are investing in reducing our carbon footprint before we pay for offsetting with carbon credits.
Working to Preserve the Abel Tasman National Park
We started on this journey after John and Lynette Wilson launched the first scheduled commercial boat service into the park in 1977. As pioneer operators, we are leading advocates for national park management to preserve the natural beauty of the park while balancing the needs of its visitors, its community and the local economy.
Our achievements were acknowledged in 2005 when we were chosen as pilot members of the Nelson–Tasman Sustainable Tourism Charter. In 2007, we advocated to gazette the Abel Tasman Foreshore Scenic Reserve that limits boat landings to certain bays at certain times.
In the same year, we were founding members of the Abel Tasman Birdsong Trust. This has established a core of volunteers to work in partnership with other tourism operators, the Department of Conservation and Project Janszoon. Together, we are protecting and enhancing the biodiversity of the region with the aim of increasing the sounds of birdsong in the park.
We were awarded the first Qualmark Enviro Gold rating in Abel Tasman National Park in 2013.
In 2022, we initiated talks with Dept of Conservation and other industry partners to separate the Environmental Access Fee (EAF) from the cost of each ticket to remind visitors how they are contributing to preservation of the national park.
Sustainability by Design
Light Foot Print Holidays
Our guides, lodge staff and boat crew are trained to understand our impact on the environment. Guests at our beachfront lodges are introduced to our special places with an appreciation for the concepts of sustainability.
Water Transport
The introduction in 2008 of our fast, safe, comfortable catamaran, Abel Tasman Voyager, to operate our Vista Cruise service revolutionised our travel timetable and alleviated pressure on park hotspots. The Abel Tasman Voyager uses less fuel per passenger than water taxis.
Our scheduled boat services are optimised to carry passengers, luggage transfers and lodge supply deliveries. Boat timetables are adjusted to work more efficiently for seasonal variability. We code share with other operators to minimise boat movements in the park during the low season.
Low Carbon Transport From/To Nelson
From 2006, we have worked with local and national governments to establish the Nelson Tasman Great Taste Cycle Trail. Our Great Taste Trio overnight trips include cycling from Nelson to the national Park
For the 2022/3 summer, we helped to establish the Better Bus shuttle service from Nelson to the national park after local services were shut down in 2021 due to Covid restrictions. This will reduce the carbon footprint of visitors using private transport and operators running their own vehicles.
Eco-friendly Beachfront Lodges
Our two beachfront lodges, Meadowbank Homestead at Awaroa and Torrent Bay Lodge, are designed and operated to minimise the impacts on both the natural and social environment of the park:
Built from sustainable and recycled wood sources, using local designers
Power generation is with state-of-the-art solar systems requiring minimal back-up with diesel generators. Click through for details on our Hybrid Power and Water System and how we have reduced use of diesel by 100% on fine days.
Intelligent plumbing features include water-saving systems, as well as bioactive, self-contained sewerage and wastewater processing
All rubbish is taken out of the park to community recycling and refuse stations
Organic and biodegradable cleaning systems are used
We source as much food as possible from local, organic and environmentally responsible suppliers
Suppliers use our own re-usable containers instead of disposable packaging
Plastic use is kept to a minimum across the board; examples include biodegradable packaging for picnic lunches, and encouraging guests to refill re-usable water bottles.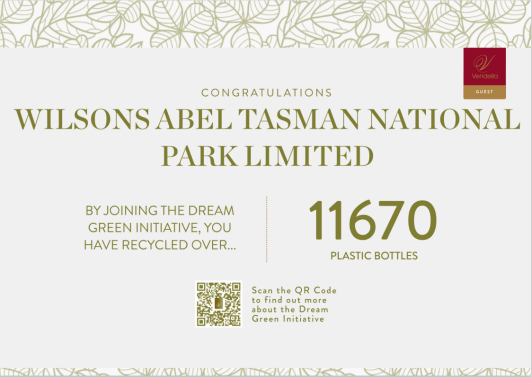 From our bedding suppliers, Vendella
Community and Cultural Heritage
Social connections and respect for local culture are key features of our planning and business operations. These include:
Buy local products and services wherever possible.
Employ locals and foster their career development through training courses, sponsorships and consultation with local education providers.
Active membership of the Awaroa Ratepayers Association and Torrent Bay local committees.
Offer special locals deals as our way of saying 'thank you' and giving back to our community.
Sponsorships and discounts for schools, charities and sporting clubs.
Preserving the history of early Awaroa settlement through Meadowbank Homestead and gardens, and the publication of Awaroa Legacy, written by Lynette Wilson
It's vital to our business that we use all our resources as thoughtfully as possible so we can share the national park without comprising visitors' enjoyment, our values and our environment. – Darryl Wilson