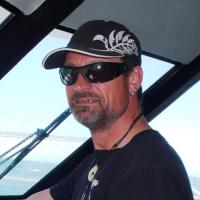 Murray Black - Chief Skipper
Having paradise as an office, has kept Murray working in the Abel Tasman since 1999. He has worked on most of our boats, now a qualified Inshore Launch Master. Born in Nelson, his overseas travels give him a working knowledge of the German language. As a volunteer on the brigade assisting clean up after storm damage on the West Coast, he shows true kaitiakitanga (guardianship) of the environment.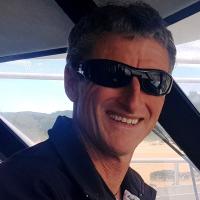 Alan Noble - Skipper
Brought up by a keen boating family in Motueka, what does a Boat Skipper do on his days off when he's been working on our boats for over 20 years in the Abel Tasman National Park? He takes his own boat into the National Park and beyond.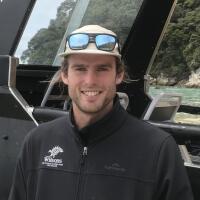 Jack Waddell
As soon as Jack gained qualifications in Outdoor Leadership and Management at Otago Polytech, he left his hometown of Dunedin to spend the summer as a kayak guide in Abel Tasman National Park in 2016 and work towards his Skipper's ticket. He's worked as a kayak instructor in US summer camps, and on fishing boats out of Greymouth, joining us a Skipper in 2022.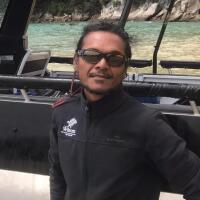 Richard Escanilla - Skipper & Guide
Raised in Manila, Philippines, Richard joined a ship as a seafarer to see the world. On one particular sailing as a crew member of an expedition ship, he experienced sailing the seven seas. He has since voyaged throughout the Pacific, and now resides in New Zealand, where he pursues his love of the ocean as a Sea Kayak Guide / Skipper in Abel Tasman National Park.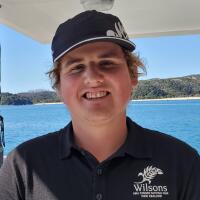 Ben Holyoake - Boat Host
A 'real' local, Ben attended Riwaka Primary and Motueka High School. After a season guiding in Ngarua Caves (Takaka Hill), in 2018-19 he did a Dept. of Conservation Ranger certificate at NMIT, with a placement on the Chatham Islands, then a season guiding in Te Anau glow worm caves. He returned home to work for Nelmac conservation programmes, and joined our boat crew in 2022.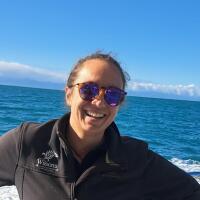 Katy Wyllie - Boat Host
Hailing from the North Island, Katy spent 8 years working for Radio NZ as an announcer and audio engineer. Looking for a change, in 2015 she completed a Super Yacht crewing course in Warkworth, and worked as a deckhand on the Auckland ferries. Escaping the big city, Katy joined our Vista Cruise hosts in 2018.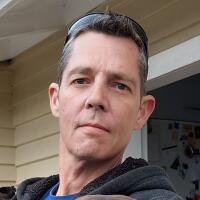 Matt Howell - Boat Host
I'm Matt, born and bred here in lovely New Zealand Aotearoa. I joined the Royal New Zealand Airforce and served for almost 12 years, and then travelled Europe WOOFING with my partner for 2 years (awesome eye opener!). I've been a professional Skydiver/Tandem master and videographer here in the Abel Tasman for the last 10 years You just cannot beat the scenery from the mountains to the sea and rivers. Here is home.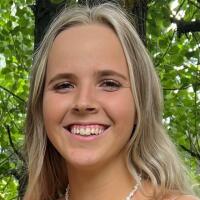 Natasha Wells - Boat Host
Born and raised in Golden Bay, Natasha has been brought up with boats and enjoys every minute of being around them. She moved to Nelson in 2022 to study Super Yacht Crewing. Since then, she's been working in the customer service industry because she enjoys meeting new people and having fun. This is her first season with us.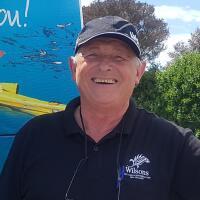 Axel Knauer - Driver
Living in New Zealand on and off since 1980, Axel's accent reveals his heritage from Germany where he worked as a television camera operator. Up to 2006, he ran many businesses in the Bay of Islands, including his own charter boat service. Based in Nelson since 2014 he was a freelance coach driver, managing tour groups through New Zealand until Covid lockdown in 2020. He joined us in 2021 to welcome visitors aboard our coach.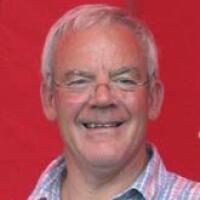 Graham Wilson - Driver & Mechanic
Cousin to John Wilson (company co-founder), Graham was one of the first hosts at Torrent Bay Lodge (late 1970s). Working in the motor industry since then, he was New Zealand Rally Champion 1979. This year, he retired from working in Rangiora to settle with his wife in Motueka.